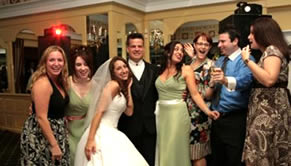 We have entertained hundreds of Weddings, Birthday's,
Reunions, Bar/Bat Mitzvahs, Corporate Event's, School functions and much more...
Booking Your Event
Some people think that booking the entertainment is the last thing you have to worry about.
The entertainment is the most important part of your affair.
It is very important to book the DJ as early as possible as dates fill up very fast. (Especially in the spring and summer months.)
Once a contract is e-signed and a retainer fee is collected, the date is considered locked.
You will ALWAYS know who your DJ/Entertainer will be, before signing the contract.
PLEASE NOTE: A backup DJ will be appointed in an event of an emergency.
After the event is booked, Clients can log into the "Client Portal" to update their planning forms and play lists.
Clients can also allow their guests to log into the "Guest Requests" to make any requests before their event.

Outdoor Events
Summer time is a busy time of year for outdoor events (i.e Block Parties, House Parties and Picnics)
but sometime mother nature doesn't always cooperate with us.
We do have protection against a small passing shower or drizzle.
In the event of a thunderstorm, we will break down the system and wait out the storm.
We do try to make up the time at the end if possible.
Alternative Sounds requires a 30% retainer fee for canceled events due to a wash out, providing there is a rain date.
For events without a rain date, we would require a 50% retainer fee.

Travel
Alternative Sounds will entertain any event throughout Long Island and the New York Tri-State area.
However, extra fees will apply for events over 50 Miles from our office or over any bridges outside of Long Island.
Setting Up / Sound Check
One of the most important aspects to our entertainment.
Timing is very important and we believe in having music playing before the very first guest arrives.
Normally we will arrive approximately 1 hour before your event starts.
1 hour gives us enough time to set up and sound check the system so that everything looks and sounds great in time for your event to start.
PLEASE NOTE: It is the client's responsibility to make sure the hall gives us ample time to set up for your event,
However, We will try contact the hall the week of the event to find out when would be the earliest time we can get into the room to set up.
A small fee will apply for any event not on the main level.
A larger fee may apply if there are no elevators and we have to use the stairs.
If your event is not on the main level, we will arrive to set up at least 90 minutes prior to your event.
FYI: Having an event on the main level will save you money with any vendor you use.
Music
A "Suggestion Song List" is greatly appreciated but not always necessary.
Remember: you want your guests to have a great time. That's why you are hiring us.
We love suggestions and requests during the event so anyone should feel free to come up and let us know what they would like to hear.
For events that are focused on the Guest(s) of honor, We recommend a "Must Play List" of their top 5-10 Favorite songs.
(I know it doesn't sound like a lot, but you can only play so many songs in a 4 hour event.)
Clients can access the this through the "Client portal" and their guests can use the "Guest Requests"

Payments
A 15% Retainer Fee is required when booking your date.
The remaining balance is due the day of your event. (typically at the end of your affair)
We Accept Venmo and Paypal as well as a Personal check or Cash.
We're generating your quote now, please do not reload the page.

POINTS TO CONSIDER WHEN HIRING A DJ
When you plan a party of any sort, your objective is to ensure that your guests have a good time, period. Your choice of entertainment, particularly if you are considering a DJ, is crucial to that end. Who you choose for your wedding reception or special event will have a greater degree of effect than any other factor, such as food or location. The DJ you choose is a direct reflection on you. Here are some important points to remember when you interview a DJ company.

Prompt return of your phone calls or Emails: You should expect to get a call back or an Email back within 24 hours. Many DJ's are out working and may not be able to return your call within an hour or two.

Willingness to meet with you and present his/her service: Will the DJ try to meet with you soon, or is he/she just trying to book the date sight unseen? Is their material neat and professional looking, and is their presentation organized and informative?

Is the price too good to be true? It seems that the DJ is often the last service chosen, after much of the budget is expended on a venue, food and clothing. This often leads brides and party planners to shop for the cheapest price possible because of a lack of resources. This often backfires when holding out for the lowest price. However, if you have adhered to the guiding principals noted here, you will know to avoid services that have a rock bottom price because they will not be able to display the level of quality and attention to detail that EVERY client deserves!

Do you LIKE the person that shows up? There is NOTHING worse in the world than having to do business with someone you do not like. Choosing the person who "feels" right is the most important factor in picking the right entertainer for your party or reception. The DJ you choose should be very open about what he/she can do for you and should volunteer information and "show" you that knowledge base.

Is the person knowledgeable about your type of event? There are all kinds of DJ's. Club DJ's, wedding DJ's, Rave DJ's…the list is endless!! Can the DJ you interview handle your type of event? Ask the DJ how many events of your type that he/she has done.

What sort of documents does the DJ use to procure your business? In a good interview, the DJ should show you several documents. First and foremost is a planner. This planner should impress you enough to the point where you begin to understand that the DJ you are hiring is a professional, and is capable of handling your event. A sample copy of the CONTRACT to be used should be available as well as a schedule of pricing information. A DJ may also give you a list of references. CALL THEM!! Ask if there were any issues or problem areas when the person dealt with the DJ.


Does the DJ use professional grade equipment? If the DJ does not have pictures of his or her gear, you should ask to set up a time to see the equipment or see pictures of the DJ's set up. Although there are many fine home stereo equipment components made, they are not suitable for commercial or repeated use and varying room conditions. The DJ should be able to tell you what he/she uses and characterize the equipment as professional grade.

Will the DJ offer to meet with you AFTER signing the contract to plan your event? A professional DJ is ALWAYS willing to discuss your event at any time before the event starts, and should display the flexibility to accommodate changes and help you solve problems. Meeting your DJ to plan your event is of paramount importance to a successful event such as a wedding reception.

Will the person that you interview be the person that will perform at your event? This is THE most common complaint about the DJ industry today. The person you meet turns out NOT to be the person that actually does your show. Often, you are not made aware of this. Ask the DJ you interview if he/she will be the actual person performing, or will someone else perform the event. You need to know this UP FRONT before you sign a contract.

Consider this when pricing your DJ service: You should consider your DJ service an insurance policy that ensures that all of the other money you spend will not result in bad memories or a less than enjoyable occasion. You do get what you pay for. Good entertainment is NOT cheap, and cheap entertainment often is NOT good!! And yet many people will pay far more for a cake, flowers, or food than they will for the most crucial ingredient at a party – the music. When was the last time you saw a cake reading a crowd and spinning a CD, motivating a dance floor crowd, or making announcements in a dignified elegant way? Further, when was the last time you heard a guest tell you "Boy, that prime rib was great, I can't wait until I go to another party to have that again"? No, that DOES NOT HAPPEN. Instead, they talk about the music that was played, and whether they had a good time or not. The music is always what they will talk about and whether the DJ was any good or not.

Your DJ, if you have chosen a good one, will display many of the following skills and attributes before and at your event:
- Master of Ceremonies
- Party organizer
- Sound technician
- Light technician
- Ability to read a crowd and pick the right music
- Flexibility to adapt to sudden changes
- Follow the plan that you and he/she have worked out using the planner
- Seamless continuous music at all times unless otherwise specified
- Extensive library of music
- Professional grade of equipment
- Audience motivator
- Ability to co exist and coordinate with other professionals at your event